Herman R. Somma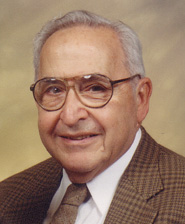 Herman R. Somma, 79, owner of Somma Tool Company, died Friday, November 5th, 2004 at his home.
Herman was the husband of Yola (Spagnolo). He was born February 10, 1925, in Waterbury, CT, son of the late Gerard and Angelina (Famiglietti). He was a graduate of Walsh Grammar School, class of 1938 and Wilby High School, class of 1942. He attended manufacturing and engineering classes at the University of New Haven and the University of Connecticut and developed three patents.
At Sacred Heart Church and Grammar School, Herman was a former Parish Council Chairman, a Trustee of the Church, and President of the Holy Name Society, a Lector and Eucharistic Minister. He was involved in all parish anniversary campaigns, carnivals and fundraisers. He restored statues at Sacred Heart and St. Margaret churches.
Herman was a member of the Waterbury-area Chapter of the Red Cross, a former Chairman of the Blood Services Committee, a multi-gallon blood donor and member of the Board of Directors. He was Past President of the Smaller Manufacturers Association. He was also a member and national speaker of the Society of Manufacturing Engineers, Waterbury Chapter, and a former active member of the Greater Waterbury Chamber of Commerce and the United Way.
Herman was very active in the Precision Machined Products Association, serving as Chairman of PMPA's Technical Members and on the National Technical Committee and Technical Program Development Committee. He served in the Naugatuck Valley District chairs from 1978 to 1981 when he was the District's Chairman. In 1990, the PMPA presented Herman with the Distinguished Technical Members Award.
Most of all, he enjoyed spending time with his wife and family. He was a devoted and loving husband, father, father-in-law, and grandfather. He will be sorely missed.
Besides his wife of 53 years, Herman leaves two sons, Gerard (Sandy) and Eric (Peggy) Somma of Waterbury, a daughter Blanche S. (Bill) Feero of Waterbury and six grandchildren (Robert, Brian, Gina, Marissa, Jenny & Lisa).