Solid Carbide T-Type Cut-Off Blades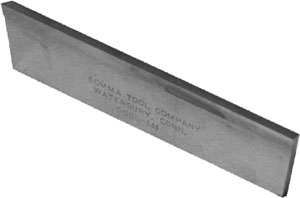 LOW COST!
MORE PIECES PER BLADE!
Longer wear, less galling, better finish, higher speeds than high-speed steels.
PLUS greater rigidity and up to 10 times the resharpenable tool life of carbide tipped tools.
ALSO AVAILABLE: TITANIUM NITRIDE, (TIN) COATED. TO ORDER ADD -TIN TO CATALOG NO.
Tools are supplied ready for use with cut-off angles sharpened on both ends so that tools can be used on front or rear slide and for either right or left hand operations.