R&L Releasing Tap Holder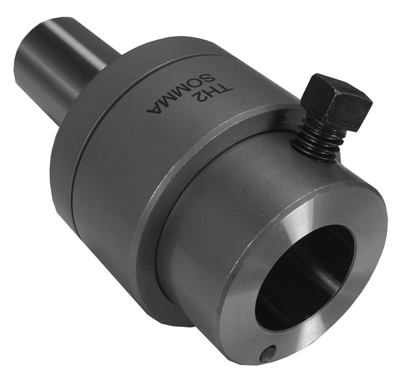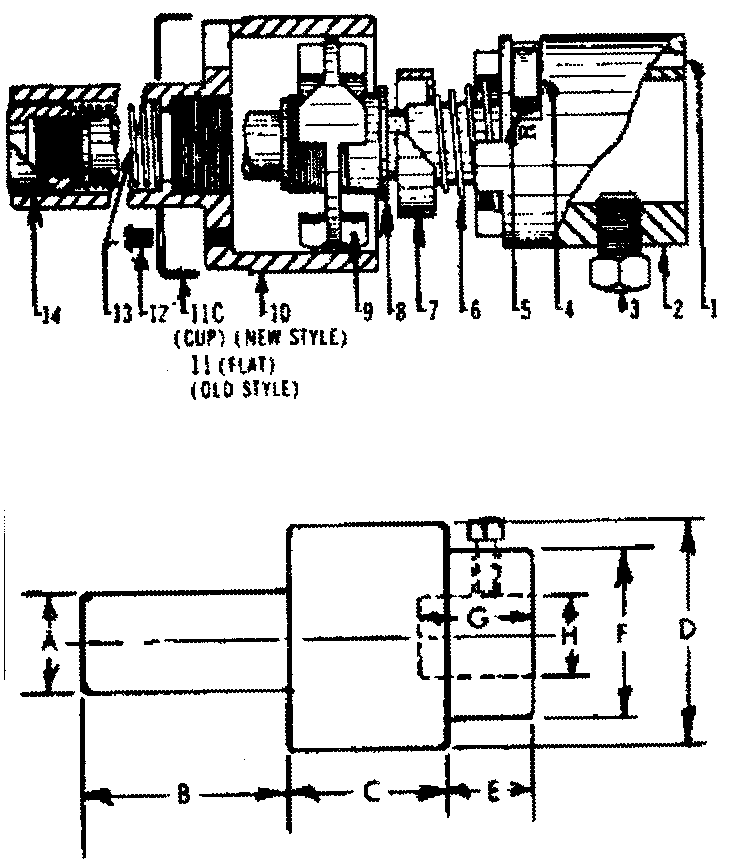 The patented unique releasing mechanism of the Somma R & L Tap Holder is unequalled for dependability and accuracy which resulted in its selection for usage as original equipment by many machine tool manufacturers.
Features
For right or left hand threading
Eases tap into work for better matching of threads
No spring plungers to wear or break
No. 000 size is extremely sensitive for small taps when used on high speed machines
Simple operation (see diagrams below)

FIG 1:
Ready to start threading operation, clutch slightly engaged (A) and (C).
FIG 2:
When tap contacts work, clutch ring (A) slides forward to fully engage spindle (C) for positive driving power.
FIG 3:
When end of pullout is reached clutch ring (A) springs back instantly, leaving ample clearance between contact points of clutch ring and spindle, preventing re-engagement or hammering of clutch points in case turret advances slightly after release.
NOTE: TH2-NBG, TH3-NBG AND TH4-NBG have special shank diameter and length for use on New Britain Gridley automatics.
SEE TAP HOLDER BUSHINGS FOR THESE TAP HOLDERS

TAP CAPACITY

PULLOUT FOR RELEASING

HAND
TAP

PIPE
TAP

CAT. NO.

STD.
CLUTCH
NUT

CAT. NO.

SHORT
CLUTCH
NUT

SIZE

A

B

C

D

E

F

G

H

TH000

5/8

1-3/16

7/8

1-1/32

3/8

13/16

1/2

1/2

1/4

1/16

1/8

.100

TH00

5/8

1-1/4

7/8

1-11/32

13/32

1-1/8

19/32

1/2

7/16

1/8

1/8

.100

TH1

3/4

1-3/4

1-1/16

1-19/32

1/2

1-5/16

3/4

5/8

11/16

1/4

5/32

.115

TH2

1"

2"

1-3/8

2-7/32

13/16

1-3/4

1-5/32

1"

1-1/8

3/4

7/32

.156

TH2-NBG

1"

2"

1-3/8

2-7/32

13/16

1-3/4

1-5/32

1"

1-1/8

3/4

.156

TH3

1-1/4

2-9/16*

2"

2-13/16

7/8

2-1/4

1-1/2

1-1/4

1-1/4

1"

1/4

.167

TH3-NBG

1-1/2

1-11/16

2"

2-13/16

7/8

2-1/4

1-1/2

1-1/4

1-1/4

1"

.167

TH4

1-1/2

3-3/16

2-9/16

3-5/8

1-1/8

3"

1-5/8

1-1/2

1-1/2

1"

5/16

.203

TH4-NBG

1-1/2

1-11/16

2-9/16

3-5/8

1-1/8

3"

1-5/8

1-1/2

1-1/2

1"

.203
* PLUS 31/32 DIA. x 15/16 LONG PROJECTION