Davenport "T" Type, 5th Position, Cut-Off Blade Holder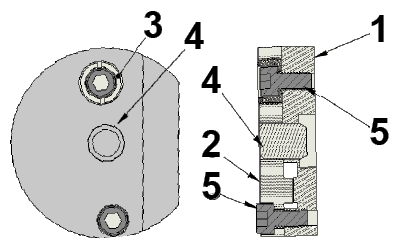 This Cut-Off Blade Holder can be mounted in the circular form tool position on the Davenport Machine and holds standard 1/2" high "T" Type Cut-Off Blades.
Exclusive adjustment feature makes compensation for different blade widths fast and easy.
Eliminates need for washers or spacers.
Holds blades more securely.
Holder lasts longer.
TCOBH-DAV
Part No.

Cat. No.

1. Body
2. Clamp
3. Adjustment Screw
4. Center Stud
5. Clamp Screws
(PLEASE REFER TO OUR CATALOG FOR STANDARD BLADES TO FIT THIS HOLDER.)