STA
Single-Use
"Throw-Away"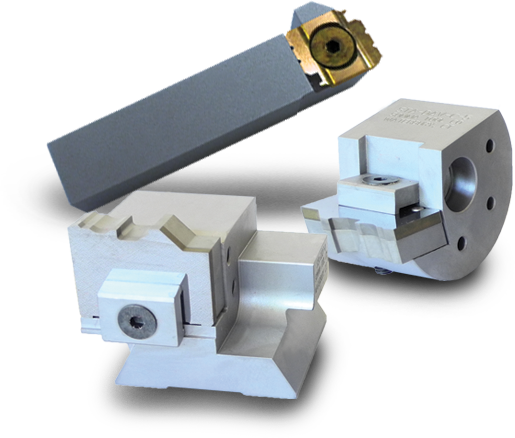 Economical holders
Compact yet rigid design
0° or 5° top rakes
Carbide and HSS inserts
Simple back-up anvil
STA VS. CONVENTIONAL DOVETAILS
CONVENTIONAL DOVETAILS
Dovetails become shorter when sharpened and must be re-centered each time.
Re-centering a dovetail on a screw machine is not very efficient or cost effective.
You will need to purchase more than one tool to reduce machine down time.
STA
Initial set up is the same as for a conventional dovetail.
The insert remains on center in the holder even after sharpening.
Can be used for a family of parts without re-centering or making lateral adjustments.
Drop-in shave holders available.
STA VS. COMPETITORS' SINGLE USE
COMPETITORS' SINGLE USE
Expensive complex holders
Expensive backup anvil
STA
Simple backup spacer rigid enough but economical enough.
Buy a set of 10 inserts and get a free holder.
GET STARTED WITH STA
Holders & Inserts
The Form Tool Freedom logo is a trademark registered in the U.S. Patent & Trademark Office.