Countersink Holders with Micro-Grain Carbide and T15PM Inserts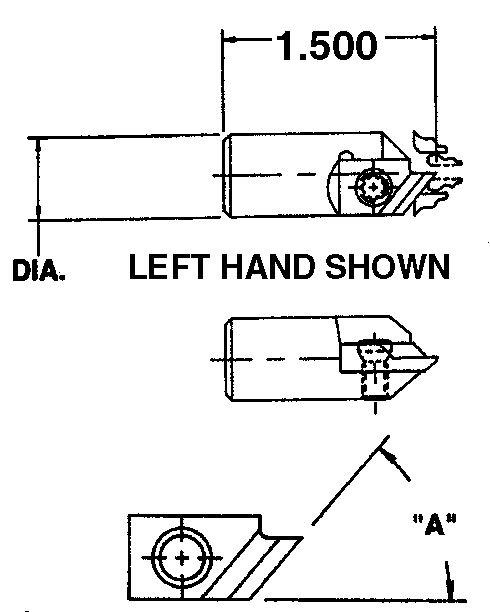 USE T15PM INSERTS FOR SLOW SURFACE FEET OR MACHINES THAT LACK RIGIDITY.
Note: Also available in
1", 2" and 2-1/2" lengths.
Also Available Tin Coated
Add TIN to Insert Part #
HOLDER PARTS
CAT. NO.
ITEM

TORX SCREW

TORX WRENCH
(Patent No. D396,865 / 5,827,019)
• COUNTERSINK RANGE .035 TO .325 DIA.
• LARGER RANGES AVAILABLE
• R.H. AND L.H. STOCKED
• BACKWORKING LEFT HAND CUT
• USED TO CHAMFER BACKEND OF PART I.D.
• REPEATABILITY WITHIN .001
• MINIMUM DOWN TIME
Left Hand
SHANK

DIA.

INCL'D.

ANGLE

HOLDER

CAT. NO.

CARBIDE INSERT

CAT. NO.

"A"

T15PM INSERT

CAT. NO.

3/8

82 DEG.

41 DEG.

3/8

90 DEG.

45 DEG.

3/8

100 DEG.

50 DEG.

3/8

120 DEG.

60 DEG.

10MM

90 DEG.

45 DEG.

7/16

90 DEG.

45 DEG.

1/2

82 DEG.

41 DEG.

1/2

90 DEG.

45 DEG.

1/2

100 DEG.

50 DEG.

1/2

120 DEG.

60 DEG.

5/8
90 DEG.
DAV-CSK-5/8
DAV-CSI-LH45
45 DEG.
DAV-CSI-LH45-P
3/4
90 DEG.
DAV-CSK-3/4
DAV-CSI-LH45
45 DEG.
DAV-CSI-LH450-P
Right Hand
SHANK

DIA.

INCL'D.

ANGLE

HOLDER

CAT. NO.

CARBIDE INSERT

CAT. NO.

"A"

T15PM INSERT

CAT. NO.

3/8

82 DEG.

41 DEG.

3/8

90 DEG.

45 DEG.

3/8

100 DEG.

50 DEG.

3/8

120 DEG.

60 DEG.

10MM

90 DEG.

45 DEG.

7/16

90 DEG.

45 DEG.

1/2

82 DEG.

41 DEG.

1/2

90 DEG.

45 DEG.

1/2

100 DEG.

50 DEG.

1/2

120 DEG.

60 DEG.

5/8
90 DEG.
DAV-CSK-5/8-R
DAV-CSI-RH45
45 DEG.
DAV-CSI-RH45-P
3/4
90 DEG.
DAV-CSK-3/4-R
DAV-CSI-RH45
45 DEG.
DAV-CSI-RH45-P