Outside Chamfering Modular Cutter Heads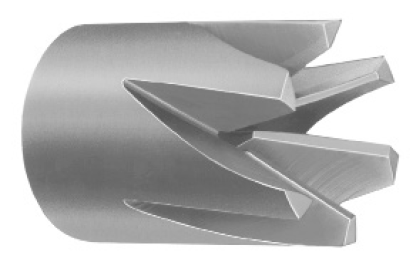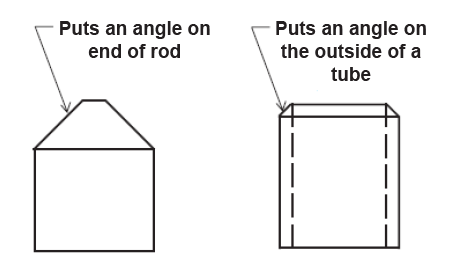 Works well on both tubing and rods.
Tools are furnished without shanks.
Outside Chamfering Mills are designed to economically chamfer a large variety of diameters on tubing, pipes, and rods. The Chatterless™ teeth produce a heavy chamfer. One size can accommodate many size parts. The Outside Chamfering Mill is available in 60° and 90° included angles, and may be reground many times. These Outside Chamfering Mills are most efficient when used in screw machines, lathes, drill presses, or other chucking machines, or with work holding devices. Although, where requirements are not too exacting, they may be used in a portable power tool on some materials. Chatterless™ teeth provide amazing ease and speed of operation. It is recommended that guides such as V-blocks be positioned to facilitate quick positioning of the work.
60° OUTSIDE CHAMFERING MILLS High Speed Steel
CUTTING
RECESS
MOUTH
BODY
BODY
I.D.
60° INCL'D
DIA
HOLE
DIA
DIA
LENGTH
THREAD
PART#
1/8"
1/32"
3/16"
1/2"
1"
5/16"-24
OC-1/8-30°
1/4"
3/64"
5/16"
1/2"
1"
5/16"-24
OC-1/4-30°
1/2"
1/8"
5/8"
7/8"
1-5/16"
3/8"-24
OC-1/2-30°
3/4"
1/4"
7/8"
1-1/8"
1-3/4"
1/2"-20
OC-3/4-30°
1"
1/4"
1-1/8"
1-1/2"
2"
3/4"-16
OC-1-30°
1-3/4"
1/2"
1-7/8"
2-1/4"
2-15/16"
1"-14
OC-1-3/4-30°
2"
7/8"
2-1/8"
2-1/2"
3"
1"-14
OC-2-30°
3"
1"
3-1/4"
3-3/4"
3-3/4"
1-1/4"-12
OC-3-30°
90° OUTSIDE CHAMFERING MILLS High Speed Steel
CUTTING
RECESS
MOUTH
BODY
BODY
I.D.
90° INCL'D
DIA
HOLE
DIA
DIA
LENGTH
THREAD
PART#
1/8"
1/32"
3/16"
1/2"
1"
5/16"-24
OC-1/8-45°
1/4"
3/64"
5/16"
1/2"
1"
5/16"-24
OC-1/4-45°
1/2"
1/8"
5/8"
7/8"
1-5/16"
3/8"-24
OC-1/2-45°
3/4"
3/16"
7/8"
1-1/8"
1-5/16"
1/2"-20
OC-3/4-45°
1"
1/4"
1-1/8"
1-1/2"
1-3/4"
3/4"-16
OC-1-45°
1-1/2"
3/8"
1-5/8"
2"
1-7/8"
3/4"-16
OC-1-1/2-45°
2"
7/8"
2-1/8"
2-1/2"
2-1/2"
1"-14
OC-2-45°
3"
1"
3-1/4"
3-3/4"
2-7/8"
1-1/4"-12
OC-3-45°