High Speed Steel Outside Deburring Cutter Heads with Threaded I.D.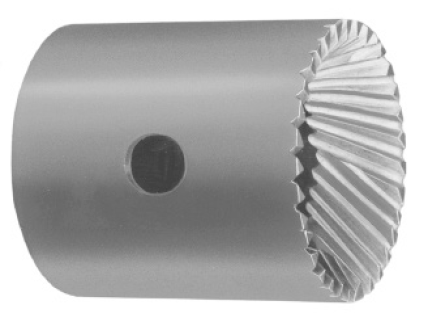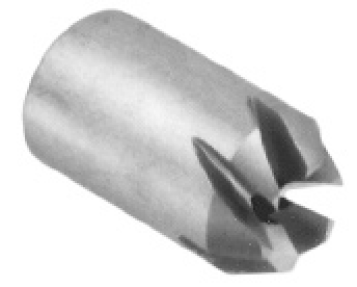 NOTE: Tools O-0, O-1, O-2, O-3, O-20, O-21, and O-22 have the tooth pattern illustrated above.
Tools are furnished without shanks.
Outside Deburring Cutters are designed with shear-type cutting teeth to eliminate burrs on diameters of tubes and rods. One tool can handle various parts, may be reground, and can be provided in carbide.
30° (60° Included) OUTSIDE DEBURRING CUTTERS High Speed Steel
MAX
"H"
"D"
"B"
"L"
"C"
"T"
PART#
CUTTING
RECESS
MOUTH
BODY
BODY
COOLANT
I.D.
DIA
HOLE
DIA
DIA
LENGTH
HOLE
THREAD
1/8"
1/16"
5/32"
1/2"
7/8"
-
1/4"-28
O-0
3/16"
5/32"
7/32"
1/2"
7/8"
-
1/4"-28
O-1
1/4"
13/64"
19/64"
1/2"
7/8"
-
1/4"-28
O-2
5/16"
.242"
23/64"
1/2"
7/8"
-
1/4"-28
O-3
3/8"
9/32"
7/16"
5/8"
7/8"
1/8"
1/4"-28
O-4
1/2"
.332"
9/16"
3/4"
1"
3/16"
3/8"-24
O-5
5/8"
7/16"
11/16"
7/8"
1"
3/16"
3/8"-24
O-6
3/4"
17/32"
53/64"
1"
1"
3/16"
3/8"-24
O-7
1"
45/64"
1-5/64"
1-1/4"
1-3/8"
1/4"
1/2"-20
O-8
1-1/4"
7/8"
1-21/64"
1-1/2"
1-3/8"
1/4"
1/2"-20
O-9
1-1/2"
1-3/64"
1-19/32"
1-3/4"
1-5/8"
1/4"
5/8"-18
O-10
2"
1-13/32"
2-7/64"
2-3/8"
1-7/8"
5/16"
3/4"-16
O-11
2-1/2"
1-3/4"
2-39/64"
2-7/8"
2-1/8"
5/16"
3/4"-16
O-12
3"
2-3/32"
3-1/8"
3-3/8"
2-1/2"
7/16"
3/4"-16
O-13
4"
2-13/16"
4-1/8"
4-3/8"
3"
7/16"
1"-14
O-14
45° (90° Included) OUTSIDE DEBURRING CUTTERS High Speed Steel
1/8"
5/64"
3/16"
1/2"
7/8"
-
1/4"-28
O-20
3/16"
7/64"
7/32"
1/2"
7/8"
-
1/4"-28
O-21
1/4"
9/64"
23/64"
1/2"
7/8"
-
1/4"-28
O-22
3/8"
3/16"
7/16"
5/8"
7/8"
1/8"
1/4"-28
O-23
1/2"
1/4"
9/16"
3/4"
1"
3/16"
3/8"-24
O-24
3/4"
3/8"
13/16"
1"
1"
3/16"
3/8"-24
O-25
1"
1/2"
1-5/64"
1-1/4"
1-3/8"
1/4"
1/2"-20
O-26
1-1/2"
3/4"
1-19/32"
1-3/4"
1-1/2"
1/4"
5/8"-18
O-27
2"
15/16"
2-7/64"
2-3/8"
1-3/4"
5/16"
3/4"-16
O-28
3"
1-7/16"
3-1/8"
3-1/2"
2-1/4"
7/16"
3/4"-16
O-29
4"
1-15/16"
4-1/8"
4-3/8"
2-5/8"
7/16"
1"-14
O-30