Tube End Form Cutters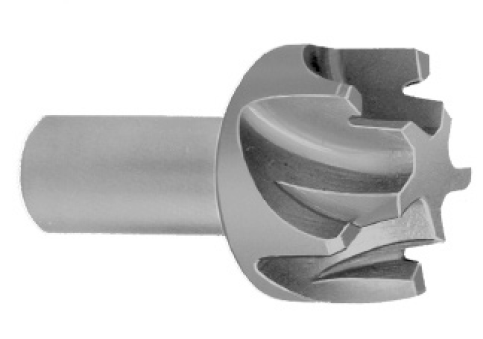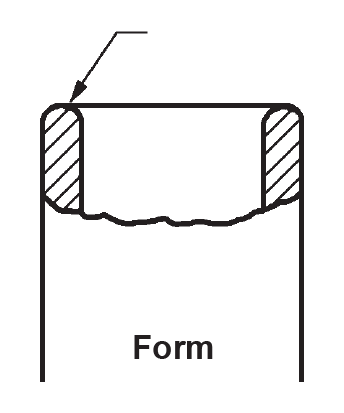 Caution: Holding of tubing by hand is not recommended.
These cutters are used to produce a smooth, round lip on all types of tubing. These include steel, copper, aluminum, plastic and other materials. They are not recommended for tubing with irregular wall thickness or for interrupted cutting. Speeds of about 50 to 350 RPM are suggested for these cutters. It is advisable to start at a slower speed on any given material or size, and then increase the speed until best results are obtained. Larger sizes (A-6 x .025 and up) can be supplied in carbide. Special cutting shapes can also be provided.
TUBE END FORMING CUTTERS
TUBING
WALL THICKNESS
SHANK
HEAD
OVERALL
SHANK
PART#
SIZE
GAUGE
INCH
DIA
DIA
LENGTH
LENGTH
1/8"
31
.010"
1/4"
1/4"
2-1/4"
2"
A-2-010
1/8"
27
.016"
1/4"
1/4"
2-1/4"
2"
A-2-016
1/8"
25
.020"
1/4"
1/4"
2-1/4"
2"
A-2-020
1/8"
22
.028"
1/4"
1/4"
2-1/4"
2"
A-2-028
1/8"
21
.032"
1/4"
1/4"
2-1/4"
2"
A-2-032
1/8"
21
.035"
1/4"
1/4"
2-1/4"
2"
A-2-035
3/16"
25
.020"
3/8"
1/2"
1-9/16"
1"
A-3-020
3/16"
22
.028"
3/8"
1/2"
1-9/16"
1"
A-3-028
3/16"
21
.032"
3/8"
1/2"
1-9/16"
1"
A-3-032
3/16"
20
.035"
3/8"
1/2"
1-9/16"
1"
A-3-035
1/4"
25
.020"
3/8"
1/2"
1-9/16"
1"
A-4-020
1/4"
22
.028"
3/8"
1/2"
1-9/16"
1"
A-4-028
1/4"
21
.032"
3/8"
1/2"
1-9/16"
1"
A-4-032
1/4"
20
.035"
3/8"
1/2"
1-9/16"
1"
A-4-035
1/4"
18
.049"
3/8"
1/2"
1-9/16"
1"
A-4-049
1/4"
16
.065"
3/8"
1/2"
1-9/16"
1"
A-4-065
5/16"
25
.020"
3/8"
9/16"
1-9/16"
1"
A-5-020
5/16"
22
.028"
3/8"
9/16"
1-9/16"
1"
A-5-028
5/16"
21
.032"
3/8"
9/16"
1-9/16"
1"
A-5-032
5/16"
20
.035"
3/8"
9/16"
1-9/16"
1"
A-5-035
5/16"
18
.049"
3/8"
9/16"
1-9/16"
1"
A-5-049
5/16"
17
.058"
3/8"
9/16"
1-9/16"
1"
A-5-058
5/16"
16
.065"
3/8"
9/16"
1-9/16"
1"
A-5-065
3/8"
25
.020"
1/2"
3/4"
1-9/16"
1"
A-6-020
3/8"
22
.028"
1/2"
3/4"
1-9/16"
1"
A-6-028
3/8"
21
.032"
1/2"
3/4"
1-9/16"
1"
A-6-032
3/8"
20
.035"
1/2"
3/4"
1-9/16"
1"
A-6-035
3/8"
18
.049"
1/2"
3/4"
1-9/16"
1"
A-6-049
3/8"
17
.058"
1/2"
3/4"
1-9/16"
1"
A-6-058
3/8"
16
.065"
1/2"
3/4"
1-9/16"
1"
A-6-065
7/16"
25
.020"
1/2"
3/4"
1-9/16"
1"
A-7-020
7/16"
22
.028"
1/2"
3/4"
1-9/16"
1"
A-7-028
7/16"
21
.032"
1/2"
3/4"
1-9/16"
1"
A-7-032
7/16"
20
.035"
1/2"
3/4"
1-9/16"
1"
A-7-035
7/16"
18
.049"
1/2"
3/4"
1-9/16"
1"
A-7-049
7/16"
16
.065"
1/2"
3/4"
1-9/16"
1"
A-7-065
1/2"
25
.020"
1/2"
3/4"
1-9/16"
1"
A-8-020
1/2"
22
.028"
1/2"
3/4"
1-9/16"
1"
A-8-028
1/2"
21
.032"
1/2"
3/4"
1-9/16"
1"
A-8-032
1/2"
20
.035"
1/2"
3/4"
1-9/16"
1"
A-8-035
1/2"
18
.049"
1/2"
3/4"
1-9/16"
1"
A-8-049
1/2"
17
.058"
1/2"
3/4"
1-9/16"
1"
A-8-058
1/2"
16
.065"
1/2"
3/4"
1-9/16"
1"
A-8-065
1/2"
14
.083"
1/2"
3/4"
1-9/16"
1"
A-8-083
9/16"
22
.028"
1/2"
7/8"
1-5/8"
1"
A-9-028
9/16"
20
.035"
1/2"
7/8"
1-5/8"
1"
A-9-035
9/16"
18
.049"
1/2"
7/8"
1-5/8"
1"
A-9-049
9/16"
16
.065"
1/2"
7/8"
1-5/8"
1"
A-9-065
9/16"
13
.095"
1/2"
7/8"
1-5/8"
1"
A-9-095
5/8"
22
.028"
1/2"
7/8"
1-5/8"
1"
A-10-028
5/8"
21
.032"
1/2"
7/8"
1-5/8"
1"
A-10-032
5/8"
20
.035"
1/2"
7/8"
1-5/8"
1"
A-10-035
5/8"
18
.049"
1/2"
7/8"
1-5/8"
1"
A-10-049
5/8"
17
.058"
1/2"
7/8"
1-5/8"
1"
A-10-058
5/8"
16
.065"
1/2"
7/8"
1-5/8"
1"
A-10-065
5/8"
14
.083"
1/2"
7/8"
1-5/8"
1"
A-10-083
5/8"
13
.095"
1/2"
7/8"
1-5/8"
1"
A-10-095
3/4"
22
.028"
1/2"
1"
1-5/8"
1"
A-12-028
3/4"
21
.032"
1/2"
1"
1-5/8"
1"
A-12-032
3/4"
20
.035"
1/2"
1"
1-5/8"
1"
A-12-035
3/4"
18
.049"
1/2"
1"
1-5/8"
1"
A-12-049
3/4"
17
.058"
1/2"
1"
1-5/8"
1"
A-12-058
3/4"
16
.065"
1/2"
1"
1-5/8"
1"
A-12-065
3/4"
14
.083"
1/2"
1"
1-5/8"
1"
A-12-083
3/4"
13
.095"
1/2"
1"
1-5/8"
1"
A-12-095
3/4"
11
.120"
1/2"
1"
1-5/8"
1"
A-12-120